Aspiration Towards 5S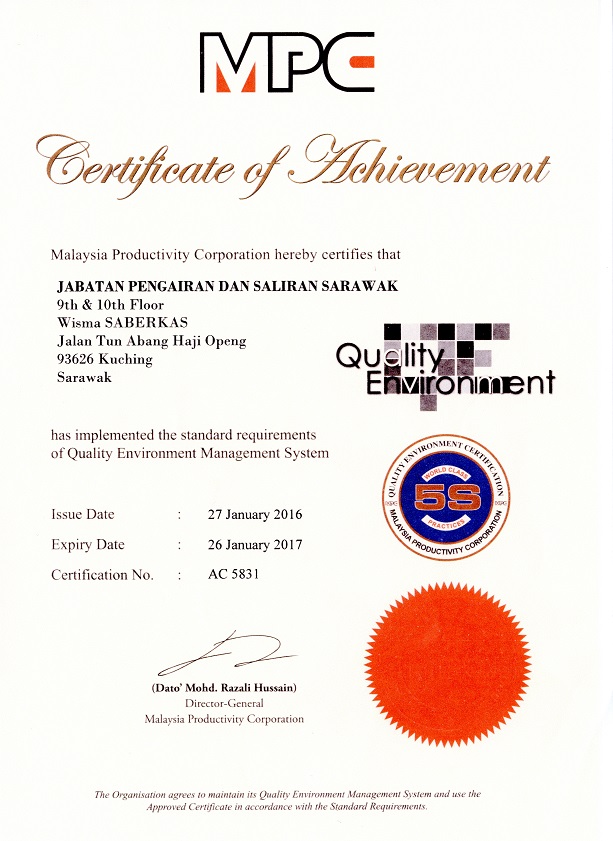 5S POLICY STATEMENT

Inculcating 5S principles for a conducive, clean and pleasant working environment

as well as to nurture a more efficient and effective work culture.
5S OBJECTIVES

Reducing operating cost;



Creating a safe, clean and conducive working environment;



Ensuring services which are timely and meeting customer expectation;



Inculcating excellent and effective work culture.
5S LOGO

ROUND ARROWS
Symbolizing the 5S principles of Seiri, Seito, Seiso, Seiketsu and Shitsuke orderly and continuos
practice for a quality, systematic and practical working environment.
COLOUR TO EACH ARROW
Signifying official colours of DID logo and the undivided support from each and

every member of staff for the 5S certification in DID Sarawak.
ORANGE AS BACKGROUND TO ARROW
Representing the official colour of T-Shirt worn by every DID staff member supporting

5S principles towards a simple work process, cost-effective and enhanced service delivery.
DID LOGO & 5S SYMBOL
Signifying the practice of 5S principles in DID Sarawak whereby its excellent, effective and

consistent adherence will further uplift the corporate image of DID as a whole.